A delegation from Glamorgannwg Indigenous People, one of the founding member micronations of Fellowship of Indigenous Peoples (FIP), attended MicroCon 2023 EU in mid-August 2023. Drunemeton Micro-Nation, also a founding member of FIP, was unfortunately unable to attend, despite our plans.
Around 17 micronations, many from various parts within Europe but some from as far afield as Indonesia and the USA, were represented at Micro-Con 2023 EU. This EU edition of MicroCon, which was hosted in Ypres, Belgium from 11 to 13 August 2023, followed the main MicroCon 2023, which was held in Chicago, USA, from 30 June to 2 July 2023. The next MicroCon will be held in Montreal, Canada during 2025.
The MicroCon 2023 website summarises the aim of the conferences as follows:
MicroCon is a biennial meet-up for micronationalists of all ages from around the world, where they can share knowledge and learn about the various aspects of nation-building.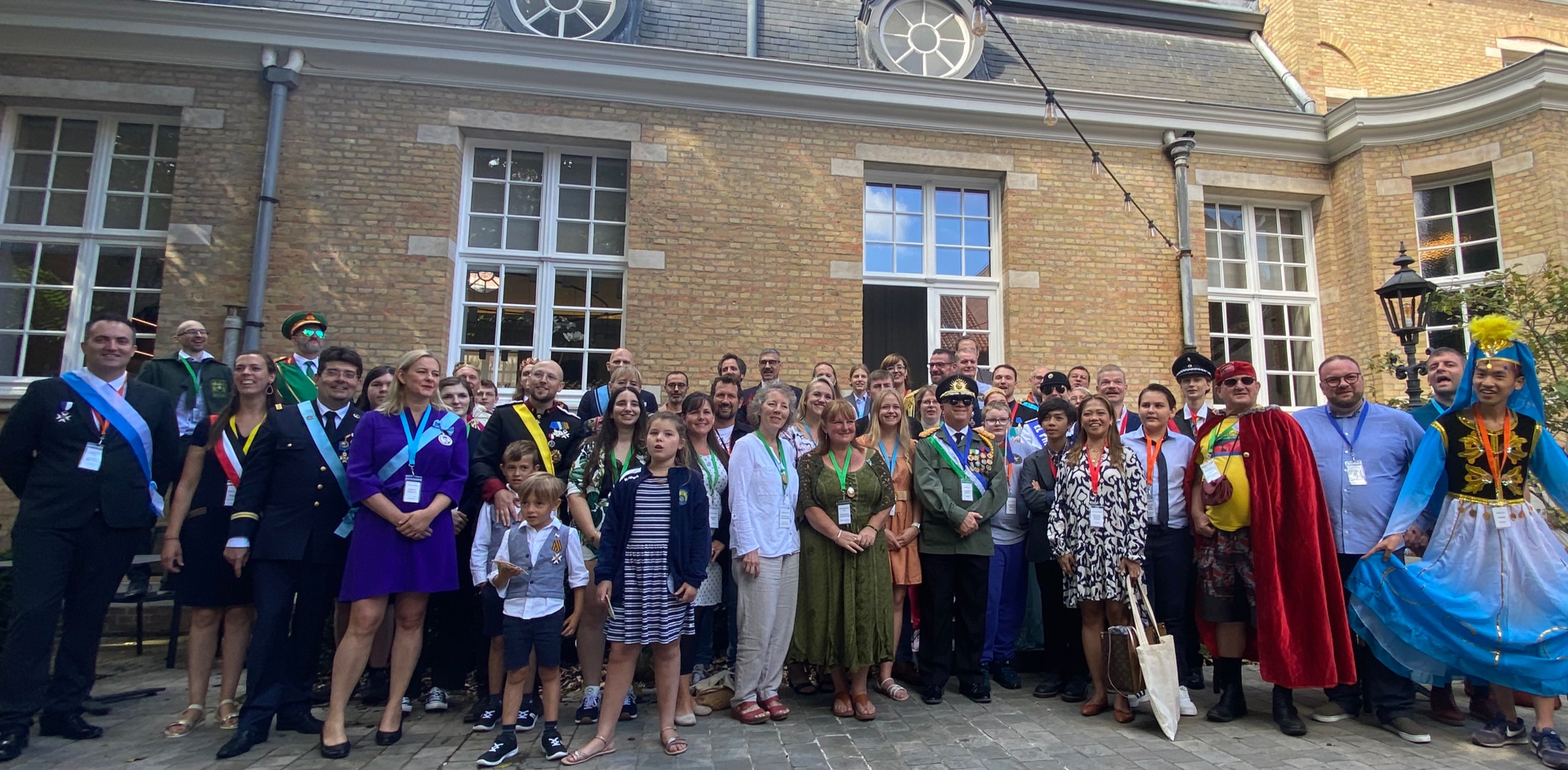 ---
Blockchain Technology for Micronations
Lloyd, one of the founders of Glamorgannwg Indigenous People, gave a talk at the conference entitled 'Blockchain and Technology in Micronationalism', where he outlined some of the core principles of blockchain technology, and then went on to suggest some ways micronations can finance and protect themselves, as well as communicate by using blockchain technology.
Although still in beta mode, Lloyd has pioneered a method whereby micronations can send immutable messages using blockchain to confirm their alignments to other micronations, or make important official announcements. Drunemeton Micro-Nation, Cymru Community Trust, and Glamorgannwg Indigenous People, all founder members of FIP, have aligned themselves with each other using this method.
You can view a video of Lloyd's talk delivered to MiroCon 2023 EU here:
Video link: https://youtu.be/AjKXTP_cIig?si=0EfizlUK7ZFTiA5L
---
Key Learnings from MicroCon 2023 EU
Lloyd, Danielle, Mark and Vanessa, who attended MicroCon 2023 EU as the official delegation from Glamorgannwg Indigenous People and as representatives of FIP, noted there are numerous reasons why people may come together and form micronations, as was evident from the many types of micronations attending the conference…
Reasons vary from creating an alternative and self-sufficient haven based on natural law to protect its members from governmental, legal and corporate overreach, to protecting wildlife and the natural environment, to promoting interest in heritage and history, to having freedom to express themselves creatively without adhering to mainstream expectations, to enjoying role-playing and elaborate costumes associated with the titles, flags, stamps, coins and uniforms of their micronations, and more.
During the conference, some micronations presented ideas on how to attract members, manage a micronation, and craft a micronation brand, whilst others discussed their experiences of dealing with the press, financing their micronation, and approaches to foreign affairs amongst the micronational community. Some of these ideas will be considered for development of our own micronations. You can download a list of all talks delivered at MicroCon 2023 EU here, as well as read a summary of the conference published at microcosme.info.
It appeared that very few of the micronations represented at MicroCon 2023 EU have developed their understanding and practice of true non-governmental sovereignty, although we acknowledge that perhaps this wasn't a true picture, because the brief nature of the conference meant that micronations weren't able to achieve a deep understanding of each others' goals. While some have declared sovereignty over specific geographic areas, and others have issued their own currencies, it seems that most citizens of these micronations are still living very much 'within the system' and are yet to explore self-determination or upholding their rights, and we look forward to hearing more on this as micronationalism develops over time.
Glamorgannwg delegates also noticed that similar to other areas in life, micronationalism attracts a minority of people who appear to be more focused on hedonistic aspects than anything else! While the micronations within FIP lean more towards serious micronational concepts such as sovereignty, our unalienable rights and self-sufficiency, we appreciate that building micronations should involve socialising and fun too! 🙂